Polymer Industries integrates the antimicrobial protection into the product during the manufacturing process. Our antimicrobial material kills or inhibits the growth of microorganisms caused by bacteria, algae and fungi. Our products are also non-porous and kill the spread of bacteria resistant to moisture and mildew.
The need to combat infectious diseases continues to increase in all commercial applications. Healthcare facilities and public venues are ideal locations for antimicrobial surfaces. In addition, antimicrobial surfaces are needed in food preparation areas, with food processing equipment and on industrial cutting surfaces. These products limit bacteria growth improving the hygiene of surfaces.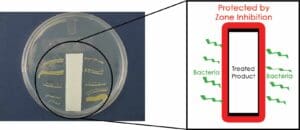 Antibacterial products are created by incorporating an antibacterial agent (biocide) to suppress the growth of bacteria on the surfaces of products through a process called zone inhibition to control growth of bacteria, fungus and algae.
Unlike surface antimicrobials, the advanced antimicrobial technology protects against bacterial degradation for the lifetime of the product.
Antimicrobial products are treated with an antimicrobial agent to inhibit bacterial or fungal growth and are resistant to deterioration by mold, fungus or mildew.  Studies have shown that surfaces with antimicrobial technology can inhibit the the amount of certain product-damaging bacteria by 99%.

Disclaimer:  Products prepared according to ASTM standards.  This product does not protect users from diseases.  Always clean surfaces thoroughly with household disinfectant.
Surface is easily cleaned with household disinfectant
Non-porous surface limits absorption
Integrated antimicrobial protection
Odor and Moisture resistant
Stain and Scratch resistant
Easy to fabricate
Ask us a Question
or Request a Sample