Henagar, Alabama, July 30, 2020 – Polymer Industries is pleased to offer Densetec® OceanBound Plastic to its line of products.  OceanBound is a versatile resin and by using it, Polymer Industries is contributing toward reducing some of the estimated 8 million metric tons of plastic that enter the ocean each year. With sustainability as a core value, Polymer Industries plays a role in a circular economy where plastics made will be recycled continuously, thus reducing waste.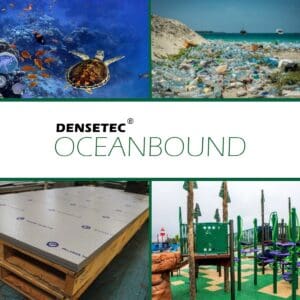 By focusing on the future of the environment, we are able to create a product for essentially any application where HDPE is preferred and make a tremendous impact on the planet. This material can be produced with or without a textured surface using any of Polymer's many stock colors. By adding a UV stabilizer, Densetec OceanBound is the perfect choice for outdoor environments. It is an excellent replacement for wood, and with the color embedded in the sheet, it never needs painting and is also vandal resistant.
"We strive to recycle 100% of the products we manufacture at the end of life to do our part for the environment," said Rohit Saigal, Vice-President of Sales & Marketing. "We want to be pioneers in the use of sustainable materials. It is imperative to our customers and to our industry that our products are in line with our mission, to protect the environment for our future. We are helping to prevent plastic from reaching the ocean and doing our part to close the loop on post-consumer materials. Every pound of OceanBound is potential pollution turned into a recyclable material."
OceanBound plastic comes from communities that lack established waste management systems and captures waste plastic that is at risk of polluting the water ways that lead to the ocean. The "at-risk zone" is within roughly 30 miles of a coastline –– the area determined to be the greatest risk of generating land-based marine debris based on research.
Visit www.polymerindustries.com for more information on OceanBound materials
About Polymer Industries
Polymer Industries is a leading manufacturer of Polyolefin products, engineering plastics, and high-performance materials with over 45 years of experience and technical expertise in the plastics processing industry. At Polymer Industries, our commitment to sustainability is a daily opportunity to impact the future through responsible practices that are good for the environment, our industry, and our communities. With our manufacturing facilities in Henagar, Alabama; Pisgah, Alabama; and Tacoma, Washington; as well as our distribution facilities in Salt Lake City, Utah; and Bolingbrook, Illinois; and our truck liner manufacturer in Oxford, Wisconsin, we are able to service our customers' domestic and international needs.
For the latest news and to learn more about the company's 45-year history of making innovative products, visit www.polymerindustries.com and  follow us on LinkedIn.
SOURCE Polymer Industries
Allie Wofford, Polymer Industries, media.relations@polymerindustries.com